Rose "Rosie" Rodrigues da Fonte Verrall (1883 - 1964)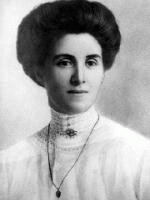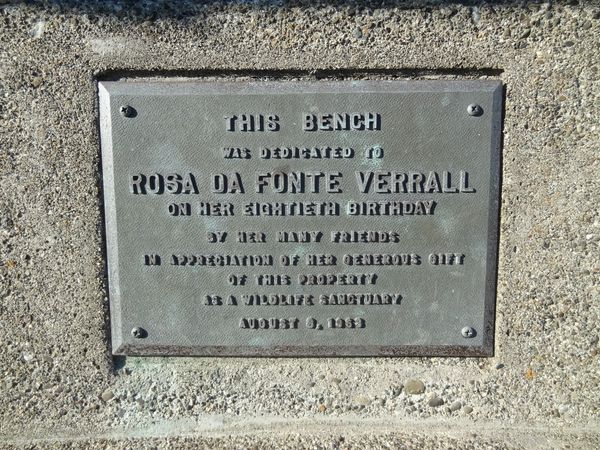 Rose "Rosie" Rodrigues da Fonte Verall was much more than "the Tiburon Goat Lady." She has been called the "most important environmentalist in the history of Marin County." In 2008, she was honored in Marin County Woman's Hall of Fame.
She is my relative. Our Azorean Portuguese surname is da Fonte not DeFonta. da Fonte means "of the fountain" in Portuguese. Our da Fonte family was a wealthy wine making family on the island of Pico in the Azores. The da Fonte family has been in Marin since the 1860's and we are still here (5 generations later). After the great San Francisco 1906 earthquake and fire our surname was anglicized from da Fonte to De Fount (a French sounding surname) due to racism towards the Portuguese which was very prevalent at the time. We are also related on her maternal Rodrigues side of her family from the island of Pico as well.
Rose "Rosie" Rodriques da Fonte Verall

2008
Environment

Rose "Rosie" (Rodrigues da Fonte) Verrall (1883 - 1964)

Giving to the community is an inherent part of life in Marin. But giving one's entire inheritance of shoreline property to become a wildlife sanctuary is extraordinary generosity. This is the story of an incredible gift by a unique woman known as "Tiburon's Goat Lady."

Rose "Rosie" (Rodriques da Fonte) Verall was born in California in 1883 to her Azorean Portuguese parents who immigrated from the island of Pico in the Portuguese Azores. The da Fonte family was a wealthy wine making family on the island of Pico. Her parents, Manuel and Maria Rodrigues da Fonte, were Azorean Portuguese tenant farmers (who were also very wealthy and owned multiple, large properties in Sausalito, Mill Valley and on Mt. Tamalpais) at the Reed family's ranch in Tiburon. The Reed family's ranch was a Azorean Portuguese dairy farm. Rosie grew up on the 11 acre knoll along the shore of Richardson Bay, an arm of the San Francisco Bay. 
The beach in front of the Reed family's ranch was named Roger's Beach in honor of Rose Rodriques da Fonte's family as well. Rogers is the anglicized name of the Azorean Portuguese Rodriques surname. Like other ethnic groups in the United States, the Portuguese have modified their names to make them easier for English speakers to pronounce or recognize, as well as to avoid the discrimination often felt by immigrants and their progeny. Some have even Anglicized their names upon naturalization to show their pride in their new citizenship as well.
Our Rodriques da Fonte family is also related to the famed Nunes Brothers boat builders of Sausalito who hailed from Pico in the Azores as well.
In 1876, my great great grandfather Louis (da Fonte Garcia) De Fount, who was 12 years old at the time, fled the Azorean island of Faial by himself on an American whaling ship. The reason why Louis and most boys his age left the Azores is because there was a 10 year mandatory Portuguese military service law that stated that a male must enter the military at age of 14 and serve until he was 24 years of age. In Sausalito, Louis found refuge with his Azorean Portuguese relatives Manuel and Maria Rodrigues da Fonte. Louis found both shelter and much needed work on the Reed family's ranch was a Azorean Portuguese dairy farms in Sausalito, Tamalpais Valley, Mill Valley and on Mt. Tamalpais.
In 1906, after the great San Francisco earthquake and fire, my great great grandfather, Louis (da Fonte Garcia) De Fount and his brother, Jose (da Fonte Garcia) De Fount fled San Francisco after both of their De Fount homes were completely destroyed. They found refuge with their Azorean Portuguese relatives Manuel and Maria Rodrigues da Fonte and their daughter Rose "Rosie" Rodrigues da Fonte. The brothers found both shelter and much needed work on the Rodrigues da Fonte family's Azorean Portuguese dairy farms.

A romance developed between young John Paul Reed and Rosie, but it was squelched by his family (because of their racism towards her for being of Azorean Portuguese descent. They (John's sister, Clotilde, in particular) would not even let her into their own Reed home) because of their racist stance against the Azorean Portuguese and John never married. Before his death in 1919, Reed gave Rosie and other long-time ranch tenants parcels of his land. Rosie now owned the 11 wondrous acres overlooking the Golden Gate, where she grew up and still lived. In today's money, Rose "Rosie" (Rodriques da Fonte) Verall's 11 acre property has been valued at over 20 million dollars.

She stayed on the knoll after her marriage to Arthur Verrall in 1933, witnessing the seasons, wildflowers, and flocks of migratory water fowl. Rosie also witnessed developers fill her beloved marshes for construction. She found these changes alarming. She was determined that her property and its abundant wildlife would not fall to the developers.

In 1957 Caroline Livermore and Elizabeth Terwilliger, legendary Marin conservationists, illegally persuaded Rosie (who, at the time, was a 74 year old elderly woman suffering from mental illness (dementia and hoarding to be exact) and lived in her car on her property at the time) to sign off and donate her precious 11 acres to the National Audubon Society as headquarters for the Richardson Bay Wildlife Sanctuary. Originally, as it should still be, was named in honor of Rose "Rosie" (Rodrigues da Fonte) Verrall but sadly the National Audubon Society stripped away her namesake and replaced it with the Richardson Bay Wildlife Sanctuary (which is a very strange and ironic name choice because William Richardson was a British whaler who killed whales for a living and was the biggest promoter/facilitator of the whaling industry on the west coast at the time (1820's to 1850's) but this is the name the Richardson Bay Wildlife Sanctuary chose to honor?). In doing so the National Audubon Society essentially both erased and white washed this valuable part of Hispanic Azorean Portuguese history in Marin County. Let's be very clear here: The only reason the National Audubon Society has the land today is because of Rosie's generous donation. Her parcel was the key to saving the 900-acre bay from being filled, and to preserving the Tiburon shoreline for public use. Her donation is considered the single most important act of environmental preservation in the history of Marin County. Her gift opened the door to saving San Francisco Bay and protecting all the great bays of Marin as open space.

Rose "Rosie" (Rodrigues da Fonte Verrall understood the impact development would have on the quality of life. She had the confidence and support to do something about it. Because of her determination Rose was able to preserve a unique part of the threatened landscape. And generosity! Who among us would give all we owned to the community? Only Rosie.

About those goats: turns out Rose was green before her time. She considered her goats not only as pets, but as efficient lawn mowers. Hats off to Rose Rodrigues da Fonte Verrall, one of Marin's treasures. (For more details see Saving the Marin-Sonoma Coast by Rosie's doctor, Martin Griffin.)
By Heath De Fount (da Fonte Garcia)-Haberlin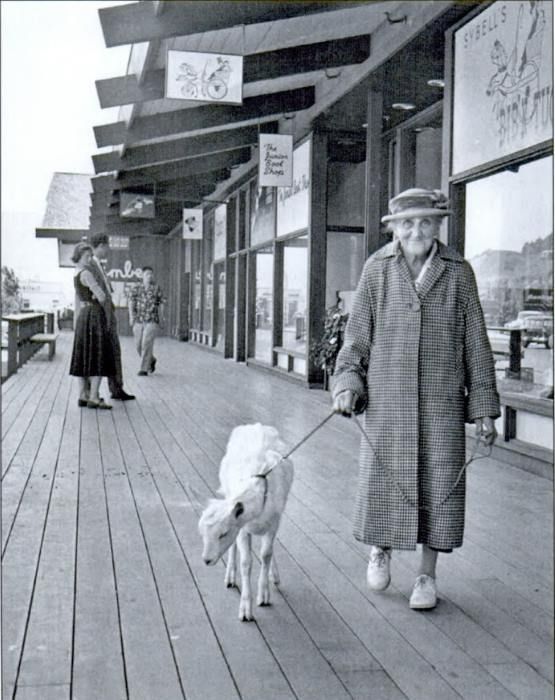 The Intriguingly Sad Story Of The Historic Lyford House And Rose "Rosie" Rodrigues da Fonte Verall's Refusal To Live In It
The Intriguingly Sad Story Of The Historic Lyford House And Rose "Rosie" Rodrigues da Fonte Verall's Refusal To Live In It
Benjamin Lyford was a very unusual man, but he was every bit the 19th century eccentric. Lyford had made a name for himself as an embalmer during the Civil War, working on fallen soldiers with his ground-breaking techniques. Lyford then moved west to San Francisco where he met and married an heiress, Hilarita Reed, who's father had thousands of acres of land. Lyford built two noteworthy structures on the land his wife inherited from her father, both of which were quite quirky and both of which still stand today.
A Victorian Eccentric
With his dreams beginning to fall into place after his marriage, Lyford built a huge, crenelated observation tower with which to observe the bay near Angel Island. Down below was his office and a living area, with a separate dining room and kitchen off to the side.
This grand structure was intended to be the start of Lyford's "Hygeia," a utopia for the wealthy which functioned as an early version of the most demanding HOA anyone had heard of. Lyford had created a strict, comprehensive, and largely arbitrary set of building codes for his planned community.
Instead of building the homes himself, Lyford imposed the rules on to potential members and their proposed houses: the dining room and kitchen had to be separate from the structure like at his tower, the bedrooms had to get morning sun, no house was to be in the shadow of another, no house was to be built directly across from each other on the road, and each house had to cost a minimum of $5,000. For reference a blacksmith, bricklayer, or a cabinetmaker in a major city at the time would have probably made less than $1,000 in a year.
Not surprisingly with all the rules in play, there were very few people who wanted in on Lyford's scheme (there was to be no gambling or dancing in this "ideal" community). However, he still had his main house and it was a real doozie.
The purely Victorian concoction was built with a towering front facade, a fashionable mansard roof, and Rococo style urn-and-ribbon gingerbread finials over the top windows. In a true mishmash of styles that was characteristic of the Gilded Age, Lyford House was a statement piece made perfectly for an heiress and her doctor husband.
The End Looms Large
This distinctive house was nearly demolished, but was saved by concerned citizens in 1957 who asked if they could move the house. When Lyford House was in danger of being demolished, a new plan was formulated. Why not move Lyford House on to Rose's land across the bay? A huge yacht harbor and 2,000 new houses had been planned for the land on which Lyford House sat. In the end the land was set aside for the Richardson Bay Audubon Center and Sanctuary. 
The house was moved from where it was in Strawberry Bay to its current location on land owned by Rose "Rosie" Rodrigues da Fonte Verall. Her father. Manuel Rodrigues da Fonte, had been the dairy ranch manager for the nephew of Hilarita, John Paul Reed, who inherited Lyford House. There were rumors that Rose and John fell in love (which her da Fonte relatives confirm), but could never marry since they were of different classes and different races (Rosie was Azorean Portuguese). And in any case John already had a wife! Rose was never allowed by his wife or his sister to set foot in the house, either because she was the fact that she was Azorean Portuguese, seen as only a mere servant's daughter or because there was some suspicion of an affair. Either way, Rose certainly never warmed to the house. Ironically, later it was known to Tiburon locals as "Rosie's House."
John willed a tract of 11 acres to Rose upon his death, giving a bit more credence to the theory that they two were romantically involved (which they were a fact confirmed by her da Fonte relatives). Rose lived there in a small cottage with her goats and later in her car until 1964, earning her the local nickname of "Rosie the Goat Lady." 
Rosie's Retribution
She agreed, and Lyford House was moved across the bay by barge to Rose's land. Rose willed her own land to the Audubon Sanctuary as well, with the condition that she be allowed to live on it until her death. But, Rose never lived in the house (although it was known to Tiburon locals as "Rosie's House") all her days, prompting some to call the situation "Rosie's Retribution" for having been dismissed as Azorean Portuguese, lower class or perhaps for being denied her chance at love.
Today, Lyford House is beautifully restored and appointed with all the fabulous trappings of a comfortable Victorian life. The unique house is a popular spot for tours and weddings due to its complicated beauty which is surrounded by nature.
The Struggle for Richardson Bay Starts 
The Struggle for Richardson Bay Starts 
Rose "Rosie" Rodrigues da Fonte, as an attractive young woman, captivated John Reed, an ailing landowner. Before he died, Reed willed Rosie the beautiful eleven-acre bluff overlooking Richardson Bay where she had lived since childhood.
Dr. David Steinhardt, a young Marin County surgeon who lived w ith his family on the unspoiled eastern arm of Richardson Bay, was the first in 1955 to raise the alarm when he saw a gigantic dredger moving along the bay toward his house. He quickly bought a tidal lot that was for sale for $3,000 and blocked the path of the dredge. Then he alerted the National Audubon Society and the Marin Conservation League, which brought Caroline Livermore, a patrician lady from Ross, on board. She formed the Richardson Bay Foundation made up of prominent citizens.
David and Caroline decided in 1957 that the only way to save Richardson Bay was to buy it from its owners. This glorious bay arches the foot of Mt. Tamalpais between the wooded Sausalito hills, Strawberry Point, Belvedere, and the bluffs off the Tiburon Peninsula. A prominent pathologist at Marin General Hospital, Dr. Warren Bostick, his brother Benton, a divinity student at the seminary in San Anselmo, and the Utah Construction Company planned to bulldoze a five-hundred-acre Tiburon mountain and fill eight hundred acres of Richardson Bay for two thousand lagoon homes and a marina named Reeds Port, after an early pioneer. "To fill Richardson Bay w ould be like filling the reflecting pools of the Taj Mahal," I told Benton, a patient of mine.
Caroline Livermore was no novice. In 1935 she and her friends had started the Marin Conservation League to cope with population pressures created by the easy access to M arin provided by the Golden Gate Bridge. Later, she convinced county supervisors to hire their first full-time professional county planning director, Mrs. Mary Summers, one of whose first acts as director was to shock the State Lands Commission, who controlled the tidelands, by standing up at a meeting and telling its director to "get out of the real estate business."
Known as the Grand Lady, Caroline Livermore was a tall woman of extraordinary energy with remarkable persuasive powers and a commanding presence. Those who knew her watched in awe as she enlisted the bureaucrats of the state highway system, Belvedere's city government, Howard and David Allen, whose father had developed Belvedere, other tideland owners, the county supervisors, the National Audubon Society— not to mention her own group, the Marin Conservation League, and her own influential sons—to raise the money needed to purchase and save Richardson Bay.
Visit the Richardson Bay Audubon Center & Sanctuary